Unbelievably, here we are at the end of summer.
School begins on Monday for Kidzilla, so this is our last weekend of summer freedom. But I still can't pull my brain away from the thought that summer lasts until Labor Day and this whole back-to-school before Labor Day thing is nonsense.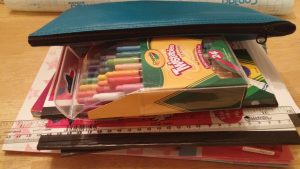 So for the next week, we'll be sort of hovering in the interim between back-to-school routine and what should be the final days of summer. Of course, it's all moot since summer doesn't end by the calendar until late September. I guess the answer to the question of when summer ends is dependent upon the person you ask. 

But whatever.
While I'm a bit sad to see summer end, I'm also glad we'll be getting back to a more structured routine with the start of school. I've learned to appreciate the beauty of each season, but seasons must and do change. I'm ready, I think.
Regardless of what the school calendar says, it's still the weekend and that means it's time to stop for a few moments and be thankful for the good in life… Continue reading →