I totally missed the TToT party last weekend. And I mean missed in the sense that on Monday I realized the weekend had come and gone and I was not part of it.
I went down like a ton of bricks the Saturday morning after Thanksgiving with THE worst stomach virus I think I've ever had. I was in bed asleep for the majority of Saturday, Sunday, and Monday. I didn't eat anything that resembled real food until Wednesday. It was awful.
But I am back in the world of the living again and despite the fact that half of my week happened without my knowledge or consent, I have a list of things for which I am very thankful this week.
First, my Piano Guys Christmas CD from Kerry over at Smiffbib. Signed and everything!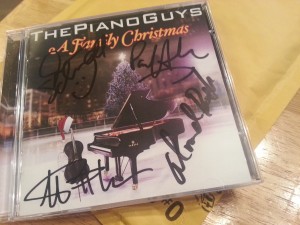 If you haven't read Kerry's blog, you really should. She's hysterical. Her explanation of the title of her blog alone will hook you. Thanks, Kerry, for my giftie! And after you get done checking out Kerry, definitely go check out the Piano Guys on You Tube or on their website.
This week I put on my not as fat jeans. Notice I did not say skinny jeans. They are not skinny jeans. I am not skinny. Ain't nobody got time for that. But I did put on my not as fat jeans. Twice. And they weren't uncomfortable. So this is not a fluke, friends. Going public with the fact that I've lost about 15 pounds and I believe they are actually gone for good.
This is really one for the Fab Hub – he'll be thrilled and thankful. I am thankful for the obnoxious temperature during cocktail hour at my Sister's wedding reception and this week's RIDICULOUS humidity to seal the deal on letting my hair grow out a bit.  I like this cut – a lot – but I really do miss the option of putting my hair up and forgetting it when the need arises. Perhaps a silly thing to add to the list, but I know he'll be happy about that.
This week I have had a couple more good medical reports and (finally) a potential solution to some recent medical issues of the feminine variety. *crosses fingers* Here's to moving forward and not being completely incapacitated each month.
A while ago, Bloglovin' sent me an e-mail congratulating me on having gained ten followers on Bloglovin'. Ten. Wow. Feels like I'm almost a "real" blogger.
I was surprised and happy to find this greeting me when I came home from my first day back at work this week…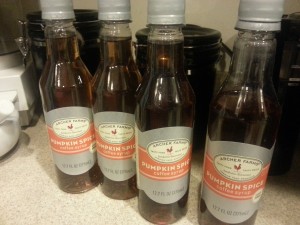 I have a pretty hefty Dunkin Donuts pumpkin coffee addiction. If you buy a huge coffee every day, it adds up pretty quickly. Last fall the Fab Hub found this pumpkin spice coffee syrup at Target, of all places. It's better than any other I've ever tried. This fall, he attempted to get me more, but it was nowhere to be found. They must have finally had a truck delivery, because there it was. He grabbed a bunch so I won't be lacking in pumpkin spice for a while. So that's a thankful for Target's pumpkin spice stuff and (once again) for the Fab Hub.
I think I speak accurately for me and the Fab Hub by saying we are thankful for some positive developments in Kidzilla's ongoing school issues. And part of that includes the advice and help of a very good person in our lives. For that person, our family is very thankful.
I am thankful for bloggy friends who did not forget that my blog existed because I disappeared for a week. And, speaking of bloggy friends, I do hope that all of mine are safe and warm out there as this nasty snow and ice storm has made its way across the country.
I am very thankful that I have a decent sense of humor. Because truly if I didn't laugh, I'd have to cry. Since Thanksgiving, our house has seen a five-day stomach virus from hell, Cat One with stomach issues and cat puke all over the place, a dead car battery and subsequent replacement, cat poop in the sink, Kidzilla coming home with stomach virus round two, complete with vomit…along with the other standard weekly stuff.
Finally, the Fab Hub makes the list. Again. I know he makes a lot of my thankful lists. But he deserves it. This week, I am particularly thankful for the fact that he is an incredibly hands-on and intuitive Fab Dad who jumps right in and does what needs to be done. Including barf bags. When Zilla's school called to tell us she was sick, he took care of business. When I came home after school, I was pleased and admittedly surprised to know that he had done exactly all the right things to get her home and settled.
I think that wraps up our week and this list. Zilla is feeling much better today and has kept real food down so we are off to see Frozen this afternoon. I'll be around to read all of your TToT lists later!
Have a wonderful weekend!